"Within the year, all white-chested bears will be painted pink to honor our great king and fearless leader, Pagan Min."
— In-game description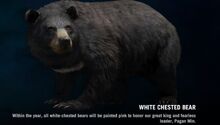 The White Chested Bear is an animal that lives in Kyrat in Far Cry 4, and it is one of Kyrat's most dangerous predators. About 3 hits from a bear can kill the player. The bear can also take quite a few bullets. Flame thrower is practically useless, because the bear will be more enraged, charges towards you, and will set you on fire if it hits you. The D2 or an auto cross are the best weapons, as the auto cross fires very fast and kills the bear in about 7 hits. The Bull signature weapon will take it down with a single shot, but has limited range. Sometimes these bears engage in death battles with Bengal Tigers, which is the only predator that will actually fight them. All others will flee with the exception of the Honey Badger, which the bear itself will flee from after confronting it. For all of their strength and endurance, bears lose these fights with tigers more often than winning them.
Ad blocker interference detected!
Wikia is a free-to-use site that makes money from advertising. We have a modified experience for viewers using ad blockers

Wikia is not accessible if you've made further modifications. Remove the custom ad blocker rule(s) and the page will load as expected.