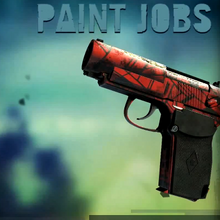 Weapons in Far Cry 3 and Far Cry 4 can be customized with different paint jobs which change the appearance of the weapon, but does not affect its performance.
Far Cry 3 and Far Cry 4
Edit
Black
Fierce- Pink "tiger stripes"
Stalker- Mottled black and grey
Modern- Desert "digital camo"
Silver
Gold
Black
White- white barrel, black grip
Aqua- blue-grey mottled camouflage
Vintage- battered-looking wood grip
Dry Lands- battered desert camo
Stalker- green and black "tiger stripes"
Ad blocker interference detected!
Wikia is a free-to-use site that makes money from advertising. We have a modified experience for viewers using ad blockers

Wikia is not accessible if you've made further modifications. Remove the custom ad blocker rule(s) and the page will load as expected.