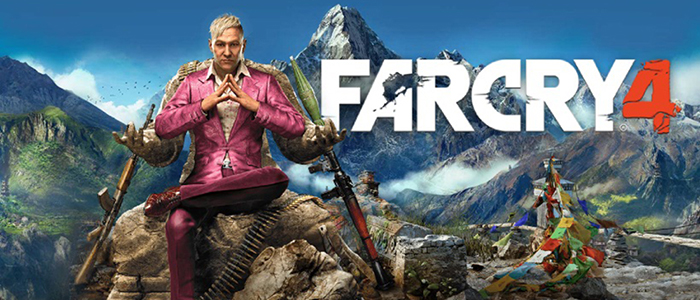 Far Cry 4, Ubisoft's latest iteration in the Far Cry series is set for release in November of this year. What we know so far is that the game takes place in the fictional Himalayan region named Kyrat. The player assumes the role of Ajay Ghale, who returns to his home country to spread his dead mothers ashes. On his visit into the country, however, he is captured by a dystopic, self-appointed king of the region named Pagan Min. Min shares a similarity to other villains of the Far Cry universe, being an incredible powerful and destructive force.
The game will include a competitive multiplayer mode, which was showcased in demo form at this year's E3. We know there will be a return of animals (and using them to your advantage), and there seems to be a big focus on vertical climbing via rappels and grappling hooks.
What sort of features or gameplay modes do you want to see in Far Cry 4? Let us know in the comments. Also be sure to take a look at Ubisoft's development diary for the game. The development team talks in length about their inspirations for the game and their trip to Nepal for research into the game's setting.
My Wishlist
Multiple forms of transportation, including the wingsuit, cars, and boats
Return of the legendary weapons
Return of Far Cry 2's weapon degrading system
Retaining the focus of animal hunting
Return of cooperative multiplayer modes
Variety of environments (we've seen plenty of mountainous areas, but having some flat areas/near water would be cool)
I'd also love to see a variety of challenges based around climbing tall summits and peaks of mountains and placing flags
Videos
Ad blocker interference detected!
Wikia is a free-to-use site that makes money from advertising. We have a modified experience for viewers using ad blockers

Wikia is not accessible if you've made further modifications. Remove the custom ad blocker rule(s) and the page will load as expected.