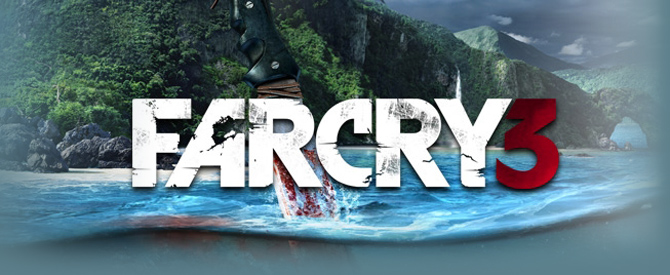 Plot
Far Cry 3 takes place on tropical islands between the Indian and Pacific oceans. The main character, Jason Brody, is a 25 year old tourist who becomes stranded on the initial island. The morning after his arrival, he awakes to find his girlfriend, Liza, kidnapped. His friend, Doug has been killed, and the island is populated with crazed inhabitants.
Some important characters include:



Villains
Far Cry 3 contains several islands that the player can explore. The people of these islands have lost their minds and have become psychotic and violent. The different islands have different leaders that control them. Vaas Montengero is the main antagonist of Rook Island. Too much time spent on the island has turned Vass insane and sadistic. Hoyt Volker is the main antagonist of the Southern Islands. Hoyt works in slave trafficking and murder, and has his own mercenary army at his disposal.
Some of the villains include:



Co-op
A notable first for the series, Far Cry 3 includes it's own co-operative mode that supports 2-4 players. The plot of the co-op campaign takes place six months before the single-player campaign. Callum the Scottish thug, Leanard the crooked cop, Mikhail the Russian hitman, and Tishi, the ex solider. The four of them have all led dangerous, questionable lives and are attempting to redeem themselves. The co-op campaign will take six hours to complete.
For more information:



Weapons
Far Cry 3 includes 39 different weapons that can be used, with each weapon open for customization with several mods. The arsenal of rifles, pistols, and machine guns are all modeled after their real-life counterparts. Types of guns included in the game are handguns, submachine guns, shotguns, assault rifles, sniper rifles, light machine guns, RPGs, mounted guns along with a few miscellaneous types.
More Enemies include:



New Features
Far Cry 3 develops new features and additions from previous installments. The player now has the ability to shoot enemies behind objects in crouch mode without moving their head upwards. There is also an overhauled stealth mechanic and a rumored leveling system based on experience points. Players can perform takedowns by performing melee attacks in crouch mode. The story mode map has confirmed to be ten times larger that it's predecessors. Players can survey and plan out attacks with stealth takedown combinations and survey the environment with cameras. The developers have also confirmed the presence of various animals in the wilderness, which can hunt or be hunted.
Ad blocker interference detected!
Wikia is a free-to-use site that makes money from advertising. We have a modified experience for viewers using ad blockers

Wikia is not accessible if you've made further modifications. Remove the custom ad blocker rule(s) and the page will load as expected.