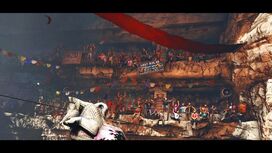 The Mouth of Madness is a mission on Far Cry 4. That mission introduces Noore Najjar how a "villian" in game.
Far Cry 4
Edit
You will find Bhadra southeast of the Banapur village (the letter B on the map). Speak with her and then go to the Ghale Homestead (the letter Y on the map). You will find Yogi & Reggie, and does two have a interessint conversation with Ajay, later they gonna drug him and taken on the Shanath Arena. Noore tells to Ajay to him survive and later various rounds with enemies, she ask from Ajay his help, Paul "De Pleur" Harmon has her family, she asks Ajay that he surrender, in return, she will give him a chance going into his fortress, which Ajay was planning to do.
In this mission, Ajay is naked and without weapons.
The weapons are found on the ground, and spectators cast into the arena healing syringes, ammunition and other useful things to Ajay.
After this mission, Ajay can participate in the Arena events, but they will not be told by Noore.
Ad blocker interference detected!
Wikia is a free-to-use site that makes money from advertising. We have a modified experience for viewers using ad blockers

Wikia is not accessible if you've made further modifications. Remove the custom ad blocker rule(s) and the page will load as expected.