The Junior Deputy is the protagonist in Far Cry 5. The Junior Deputy is the first player character in the Far Cry series who is fully customizable.
The Junior Deputy
Status:
Alive
Role:
Main Protagonist
Birthplace:
United States
Nationality:
American
Hair Color:
Customizable
Eye Color:
Customizable
Residence(s):
Hope County, United States
Alias(es):
Dep
Deputy
Affiliation:
Hope County Sheriff's Office/Department
The Resistance
Profession:
Law Enforcement Officer
Rank:
Sheriff's Deputy
Game:
Far Cry 5
The Junior Deputy and two fellow sheriff's deputies are sent to arrest
Joseph Seed
, a radical preacher. Though Joseph appears to go willing when the deputies make the arrest, the situation quickly escalates when the other two deputies are kidnapped and Joseph escapes. The deputy then is swept into an armed conflict between the
Eden's Gate
cult and the rest of the Hope County residents. These include Pastor
Jerome Jeffries
, a Gulf War veteran and local church leader who has seen his congregation taken by Eden's Gate;
Mary May Fairgrave
, a bartender whose father was driven to suicide by the cult; and
Nick Rye
, a pilot who aims to eliminate the influence of the cult in order to build a better future for his children. The deputy must use their help, among others, to build
a local resistance
to put an end to Eden's Gate.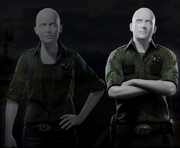 Ad blocker interference detected!
Wikia is a free-to-use site that makes money from advertising. We have a modified experience for viewers using ad blockers

Wikia is not accessible if you've made further modifications. Remove the custom ad blocker rule(s) and the page will load as expected.