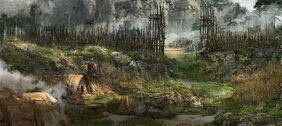 The Southern Marshlands are a location of Oros in Far Cry Primal. Home to the Izila tribe, this part of Oros is humid and unique, filled with swamps, insects, and flat plains. Characterised by the abundance of resources and fauna, the south is filled to the brim with sightseeing locations, ranging from waterfalls to sulfuric lakes. The megalith stones and burial burrows of the Izila populate the landscape.
Description
Edit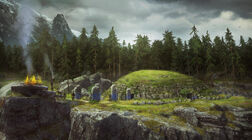 The southern region of Oros is mostly made up of marshy swamps and forests. Dense, temperate and humid, this region is home to the Izila tribe and their many megalith standing stones. Lush, evergreen trees, flowers, wild grasses and fruit bushes are common in this landscape.
In the Hars Valley, where the Great Scar Bear lives, a huge cliff dominates the landscape, a large waterfall spouting off from it. It is here that the Great Prashrawa originates, a feeder into the river that runs through most of Oros. This waterfall can be heard and seen from kilometres away and is over 100 metres tall.
Towards the southwest plains, sulfuric acid lakes are found.
Major Locations
Edit
Wildlife
Edit