SA-50 (Lynx GM6)
Category
Sniper Rifles
Price
$75,000 (estimate)
Ammunition
Sniper Rifle Rounds
Magazine size
6 (12 with Extended Magazines)
Maximum ammo
50
Attachment slots
3
Supported attachments
Suppressor, Sights, Extended mag
The SA-50 is a sniper rifle that appears in Far Cry 4.
The SA-50 is the final sniper rifle to be unlocked in the Far Cry 4 campaign. It ties with the Z93 as the most powerful non-signature sniper rifle in the game. Its statistics are almost identical to the Z93, but the SA-50 is semi-automatic instead of bolt-action, giving it a higher rate of fire. Another advantage of semi-automatic over bolt-action is that during scoped fire the rifle does not wander off target when Ajay cycles the bolt.
Like the Z93, the SA-50 is incredibly powerful; it will kill any non-Heavy soldier with one shot to any part of the body, and will kill a Heavy with three torso shots or one headshot. The bullet can also penetrate through multiple enemies, killing them with one shot. The rifle somewhat capable at shorter ranges, as it rips through approaching Heavies quickly and kills nearly anything else instantly, as well as providing deadly panic fire in case an enemy sneaks up on you.
Max range in game is 150m - which does not seem much until you watch enemy RPG's exploding 25m short of your position (RPG max range appears to be 125m)
The gun is arguably the best sniper rifle in the game. While inferior in damage to the signature AMR, its fire rate is much higher and it still does a great deal of damage. Also, it can be fitted with a silencer, unlike the deafeningly-loud AMR.
Availability
You can buy it at the shop after the Payback mission along with the D50 and A52.
Modification
The SA-50 has two scope upgrade options, both with the same zoom.  The "enhanced" scope has an illuminated reticle which does make the long shots a bit easier.
It can also be modded with a silencer and additional mag capacity.
Trivia
The SA-50 is based on the Hungarian Gepard M6 anti-materiel rifle chambered in NATO .50 BMG or Soviet 12.7mm.
The odd "telescoping" animation is true to life; the weapon's entire barrel recoils to eject a spent round and strip a new one from the magazine. Ajay apparently carries the weapon around with its bolt open and smacks the foregrip to cock it.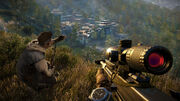 Ad blocker interference detected!
Wikia is a free-to-use site that makes money from advertising. We have a modified experience for viewers using ad blockers

Wikia is not accessible if you've made further modifications. Remove the custom ad blocker rule(s) and the page will load as expected.