Rakyat
Talk

0
634pages on
this wiki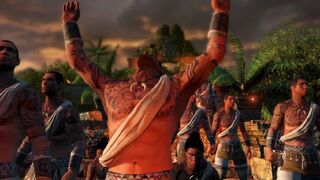 "The Rakyat are the only friendlies on the island."
Rakyat is a tribe indigenous to the Rook Islands archipelago. Their leader is Citra Talugmai.
The Rakyat play a major role in Far Cry 3. During the course of the game, Jason Brody will be tasked with helping the natives liberate the islands from pirate control.
Background
Edit
The Rakyat have lived on the Rook Islands for uncounted years. Like the rock and sand of the beaches, they are survivors. The keepers of secrets. Very few are allowed into their culture and even less invited to join the ranks of their warriors.
In one terminology, Rakyat is translated as 'people' in Bahasa Melayu and Bahasa Indonesia.
Many of the words used within the cutscenes of the game are from Bahasa Melayu (Malay language) or Bahasa Indonesia (Indonesian language).

"Selamat tengah hari" means "good afternoon". "Selamat" literally translates as "Peace be upon you" from Arabic greeting "As-salam alaykum", while "Tengah hari" means "midday" or "afternoon". Therefore: a safe (good) afternoon to you.
"Senapang ke bawah", used by Citra Montenegro, though spelled incorrectly in the subtitles, directly translates to "rifles down", respectively.
"Berikan saya herba", again spelled incorrectly in the subtitles, directly translates to "give me herbs".
"Berhenti" would also directly translate to "stop".
"Cinta untuk anak-anak kami" said by Citra Montenegro during intercourse with Jason, means "love for our children".

The Rakyat are based on the native Maori peoples of New Zealand, and share the same accents and language.
Some males have a tradition tattoo mask on their face, which is also from Maori culture and is known as 'Ta Moko'.
In sum, the cultural features of the Rakyat people are a coalition of Malay-Polynesian cultures, dominantly Malay in terms of language.
Their flag is a white banyan tree on a blue background, it can be seen after the player liberates an enemy outpost.
When you commandeer a vehicle from patrolling Rakyat warriors, it is possible for them to ride in your vehicle. Just wait and they will get inside the vehicle, except it has to be the vehicle they were riding on or else it will not work. This is effective when assaulting enemy bases or outposts, especially when the vehicle has a mounted MG.