The Privateer Assaulter Elite does not appear like the Privateer Assaulter Boss. Like Pirate Defender Elite, there is two variant of this Privateer, however Elite 1 has full beard and Elite 2 has no beard. They can be spawned in Far Cry 3 Editor. They appears in the Single player Campaign (Triple Decker mission). but never appears in Wanted Dead. It is plausible to find them in Multiplayer or CO-OP Campaign.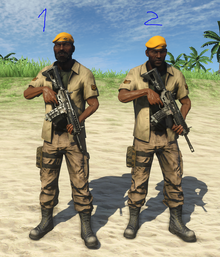 Ad blocker interference detected!
Wikia is a free-to-use site that makes money from advertising. We have a modified experience for viewers using ad blockers

Wikia is not accessible if you've made further modifications. Remove the custom ad blocker rule(s) and the page will load as expected.