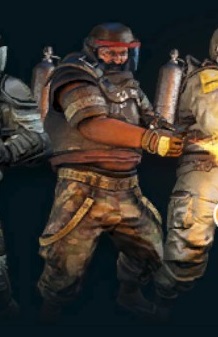 Pirate Heavy Flamer is a Heavy Pirate who only appears in CO-OP, Instead of the Weldingmask, he wears a Privateer Heavy Gunner Helmet, and he wears Privateer Heavy Flamer gas tanks. And he wields a Flamethrower instead of a PKM.
He is harder to take out than in Singleplayer, while his helmet cant be shot of, by a player.
He is stronger than the normal Pirate Heavy Gunner, however he doesn't wear more or heavier amour.