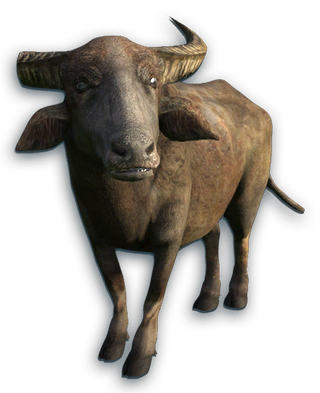 "I've heard about a native buffalo so fierce that it rammed a tiger, causing one of its horns to break off and embed itself into the shocked feline. Talk about overkill."
— Survival Guide
The One Horn buffalo is a Path of the Hunter quest that can be found in Camp Murder, north of Badtown once you free the camp.
You must kill it with a shotgun.
It will have a herd with it and they will attack, so it is better to aim for the target and kill it first. Then you can use any weapon to kill the rest of the herd.
Its hide can be used to craft the Extended Wallet.
05:48

Far Cry 3 - Path of The Hunter Gameplay - One Horn Buffalo
Ad blocker interference detected!
Wikia is a free-to-use site that makes money from advertising. We have a modified experience for viewers using ad blockers

Wikia is not accessible if you've made further modifications. Remove the custom ad blocker rule(s) and the page will load as expected.