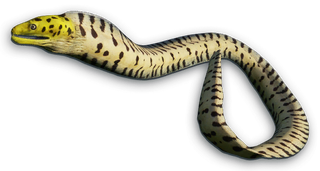 "Moray eels are another reason to be wary in the waters around Rook. These large creatures will try to eat anything that they can catch, including human arms and legs. They have a second set of jaws which launch forward into their mouths, pulling prey down their throats."
— Survival Guide
Moray Eels are animals that can be found in Far Cry 3. They are quite rare and can be found near the ocean floor or nestled in between coral reef beds closer to land. If Jason is in one of these spots, it will attack, dealing quite severe damage. Killing a moray eel will reward the player with a handbook entry. Moray Eels cannot be skinned.
Behaviour
Edit
These large, elongated creatures like to wrap around their prey and squeeze tight to restrict movement while it delivers numerous bites until the victim ceases struggling.
They act much like Crocodiles and Snakes on land, they lie in wait for an unsuspecting victim to wander by then pounce for the attack.
Moray Eels in Far Cry 3 resemble fimbriated moray eels.
Ad blocker interference detected!
Wikia is a free-to-use site that makes money from advertising. We have a modified experience for viewers using ad blockers

Wikia is not accessible if you've made further modifications. Remove the custom ad blocker rule(s) and the page will load as expected.