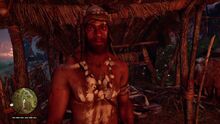 Manoo is a villager of the Wenja tribe, and a minor character of Far Cry Primal.
Far Cry PrimalEdit
Sayla refers to Manoo as a quiet man who knows everything that is happening in the Wenja village. He often gives missions to Takkar, and they often involve finding or helping other members the Wenja tribe.
Ad blocker interference detected!
Wikia is a free-to-use site that makes money from advertising. We have a modified experience for viewers using ad blockers

Wikia is not accessible if you've made further modifications. Remove the custom ad blocker rule(s) and the page will load as expected.