The Mad Devil is a rare Tibetan Wolf that can be found in Kyrat in Far Cry 4.
The Kyrat Fashion Week quest to hunt the Mad Devil is located at KEO Gold Storage.
The Mad Devil must be hunted with a
bow
or auto-cross, so consider taking the
Recurve Bow
or the auto-cross from the trading post with upgrades as you like. Its skin provides the final crafting upgrade for the
Wallet
, allowing 5,000,000 rupees to be carried.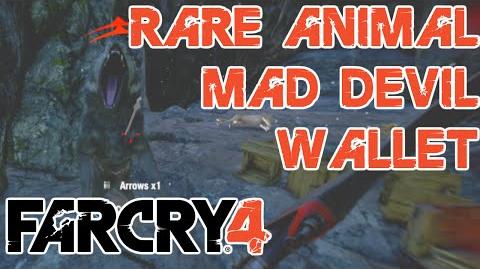 The Mad Devil can be found at these coordinates: 440, 815
Ad blocker interference detected!
Wikia is a free-to-use site that makes money from advertising. We have a modified experience for viewers using ad blockers

Wikia is not accessible if you've made further modifications. Remove the custom ad blocker rule(s) and the page will load as expected.