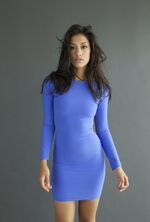 Janina Zione Gavankar (born November 29, 1980) is an American actress and musician. Gavankar is also trained as a pianist, vocalist, and orchestral percussionist. She majored in Theatre Performance at the University of Illinois at Chicago.
Gavankar is known for her more notable roles as Papi, a lesbian lothario in The L Word, Leigh Turner, a cop with a big secret on The Gates, Ms. Dewey, the personification of a Microsoft branded search engine who comments about the user's searches, Shiva, the namesake of the sought after trophy on The League, shapeshifter Luna Garza on HBO's True Blood, and McKenna Hall on The CW's Arrow.
Far Cry Credits Edit
External Links Edit
Edit
Ad blocker interference detected!
Wikia is a free-to-use site that makes money from advertising. We have a modified experience for viewers using ad blockers

Wikia is not accessible if you've made further modifications. Remove the custom ad blocker rule(s) and the page will load as expected.