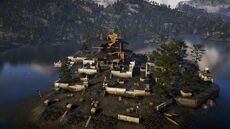 Jalendu Temple is a location within Kyrat in Far Cry 4.          
When Pagan Min decides to condemn the artifacts, he stored them at Jalendu. Mohan Ghale took the artifacts and ordered Darpan to split them and keep them away.
If the player chooses Amita as the leader of the Golden Path, the temple will be destroyed, not only to liberate Kyrat from its conservative past but also to prevent Bhadra becoming the next Tarun Matara, as the temple is the where the ceremony takes place.
At the end of the game, Sabal can be found there, he will tell his real plan to kill all who followed Amita and Pagan Min in front of Bhadra, which according to him, she must learn their duties.
In DLC Escape From Durgesh Prison there is the mission Eye for an Eye, where Ajay Ghale must kill some of Yuma Lau soldiers with a knife.
Ad blocker interference detected!
Wikia is a free-to-use site that makes money from advertising. We have a modified experience for viewers using ad blockers

Wikia is not accessible if you've made further modifications. Remove the custom ad blocker rule(s) and the page will load as expected.