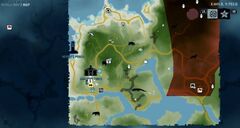 "This bell tower was originally intended to be part of a large cathedral. But when construction of the cathedral began the cliff face it sat on collapsed, taking the entire structure with it. Not surprising, considering the construction crew were from Montreal. I hear we're putting up that border fence, and none to soon."
— Survival Guide
Heron's Perch is a location in Far Cry 3. There is a Trial of the Rakyat challenge located near it. 
Ad blocker interference detected!
Wikia is a free-to-use site that makes money from advertising. We have a modified experience for viewers using ad blockers

Wikia is not accessible if you've made further modifications. Remove the custom ad blocker rule(s) and the page will load as expected.