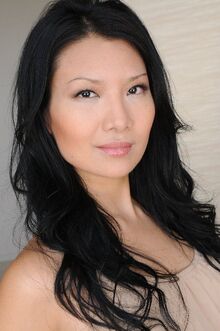 Gwendoline See-Hian Yeo (simplified Chinese: 杨时贤; traditional Chinese: 楊時賢; pinyin: Yáng Shíxián; born July 10, 1977)
is a Singaporean-born American actress, and musician, best known for her recurring guest-star role as Xiao-Mei in the hit television series Desperate Housewives, and as Dr. Kelly Lee in General Hospital.
Gwendoline Yeo moved to the U.S. from Singapore to San Francico as a teenager and then graduated from UCLA. She won national titles of Miss Asian America and Miss Chinatown USA. She then went on to an acting career. Her breakthrough role was her arc on Desperate Housewives in Seasons 2 and 3 cracking people up playing Eva Longoria's naughty maid, XiaoMei. She's also recurred on 24, General Hospital& Grounded for Life and guest starred on NYPD Blue, JAG and The OC. Her Feature credits include AMC's hit western "Broken Trail" starring alongside Robert Duvall, Hallmark's The Magic of Ordinary Days and Robin Swicord's "the Jane Austen Book Club."
She lends her voice on several cartoon series including Cartoon Network's Zatch Belle, Disney's Safety Patrol, Nickalodean's Superscout and the new X-Men. Video gamers best know her as "Paine" from Final Fantasy x-2.
Gwendoline Yeo moved from Singapore to San Francisco with her family. Gwendoline managed to get her foot in the door in Hollywood after she won the 1996 Miss Asia America and 1998 Miss Chinatown USA titles.
Right now, she is involved in the entertainment scene as an actress, a musician and a voice-over artiste. She recently guest-starred in an episode of the hit teen drama The OC. More noticeably, you can also hear her voice in the role of kick-ass babe Paine in the Final Fantasy X-2 game by SquareEnix. In Jun 2004, she just wrapped up six weeks' of filming in Canada with Keri Russell in a Hallmark movie, The Magic of Ordinary Days, in which she plays a Japanese girl.
Far Cry Credits Edit
External Links
Edit
Ad blocker interference detected!
Wikia is a free-to-use site that makes money from advertising. We have a modified experience for viewers using ad blockers

Wikia is not accessible if you've made further modifications. Remove the custom ad blocker rule(s) and the page will load as expected.