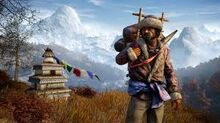 Chinjan is a character who appears in Far Cry 4. He's a member of The Sherpa. Chinjan can be found in Chinjan Sherpa camp communicating with an innocent lady. Ajay can still buy it your items, they are equal to those of other Sherpas, it also has the same voice as the others. The player can kill him, resulting in loss of Karma.
Ad blocker interference detected!
Wikia is a free-to-use site that makes money from advertising. We have a modified experience for viewers using ad blockers

Wikia is not accessible if you've made further modifications. Remove the custom ad blocker rule(s) and the page will load as expected.