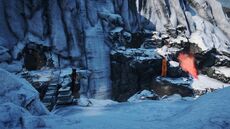 Canyon of Awakening is a location within Far Cry 4's Valley of the Yetis addon. It is the first location Ajay comes across following his helicopter crash in the Himalayas.
There is one of the places where the Relic leaves his Elixir (Orange liquid is circulating there) and there is where Sandesh and his soldiers saw a Yeti by themselves. The Sandesh soldiers bathed in orange waters had in a cave there and it made them hear some voices. Ajay goes there after his helicopter fall and to try to rescue his pilot. The place is full of Loot Chests with skins.
Ad blocker interference detected!
Wikia is a free-to-use site that makes money from advertising. We have a modified experience for viewers using ad blockers

Wikia is not accessible if you've made further modifications. Remove the custom ad blocker rule(s) and the page will load as expected.