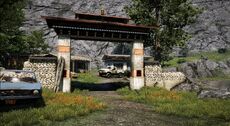 Abandoned Jheel is a location within Kyrat in Far Cry 4.
It is located in the southern part of Kyrat, near Tirtha.         
Rabi Ray Rana's secret hideout. Tapirs and wolves can be found near it. 
"Jheel" is a Hindu word meaning pond, lake, or marsh. 
Ad blocker interference detected!
Wikia is a free-to-use site that makes money from advertising. We have a modified experience for viewers using ad blockers

Wikia is not accessible if you've made further modifications. Remove the custom ad blocker rule(s) and the page will load as expected.